Home
North American Ed. 2017
North American Ed. 2018
Asia/Pacific Ed. 2019
Pre-registration
Future Programs
Custom/On Site


Programs
Faculty
Who Should Attend
Gallery
The Book
Q&A's On Ice Cream
Contact Us
Links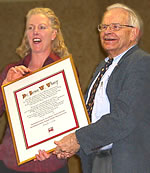 Dr. Bruce Tharp receives the International Ice Cream Association's first ever Lifetime Achievement Award, from Cary Frye of the IDFA, March 1, 2006.




"Great energy throughout program. Could really feel the enthusiasm of faculty. Keeps you interested."




"...enjoyed the class..easy to follow, engaging and knowledgeable faculty..."





Tharp & Young On Ice Cream: An Encyclopedic Guide to Ice Cream Science and Technology NOW AVAILABLE!

A new reference book in encyclopedia format covering all elements of ice cream technology in a user friendly format and approach. This is NOT a chapter book, but a text matching scientific terms and concepts with the reality of technical need, including extensions into ice cream marketing, economics, and sale.

" Excellent source of all things ice cream. Very nice! A MUST have!"

… Plant manager, major USA university/teaching creamery.

-

BUY NOW

AND GET THE AUTHORS' DISCOUNT

-

BUY THE BOOK

AND GET A DISCOUNT ON THE NORTH AMERICAN TYOIC COURSE REGISTRATION FEE

More information, including how to purchase your own copy,

HERE

.

Faculty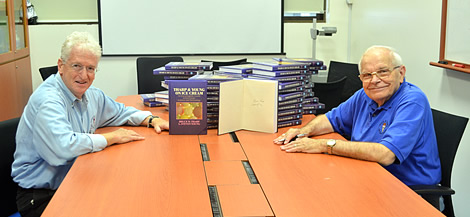 Dr. Steven Young & Dr. Bruce Tharp
Co-authors of "
Tharp & Young On Ice Cream: An Encyclopedic Guide to Ice Cream Science and Technology
".
Dr. Bruce Tharp, President
THARP'S FOOD TECHNOLOGY
Web site: www.brucetharp.com

B.S., M. S. and Ph. D. Dairy Science, Penn State. Closely involved with the dairy and ice cream industry for over forty years. Inaugural recipient of the International Ice Cream Association Lifetime Achievement Award, March, 2006. After early teaching and research service on the faculties of the University of Wyoming and The Ohio State University, managed the technical affairs of two major suppliers of high-tech dairy product ingredients. Most recently was International Technical Director for Germantown International Limited.

Professional activities have included a major focus on ice cream on six continents. Has achieved international recognition for his technical expertise and insights, and as an enthusiastic and authoritative lecturer at short courses, seminars, workshops and technical conferences around the world, including service as a principal lecturer at every academic ice cream short course presented in the USA, and over 25 years service at the Penn State course. Currently Adjunct Professor of Food Science at Penn State, Has served as chief ice cream judge at the Intercollegiate Dairy Products Evaluation Contest for thirty years.

Email: bruce@tharp.com

Dr. Steven Young, Principal
STEVEN YOUNG WORLDWIDE
Web site: www.stevenyoung.net

BS, Ph.D., Food Science (food biochemistry and food microbiology) with specialized interest in dairy foods technology, Cornell University. Nearly 30 years of domestic and international field technical service to the dairy and food processing industries that includes work in South America, the Pacific Basin, and the former Soviet Union. Former Director R&D Dreyers/Edys Grand Ice Cream; Associate Director R&D Quaker Foods Co.; Director Food Ingredient Applications, Archer-Daniels-Midland Co.. Lecturer: Cornell, Ohio State, Texas A&M, Univ. Maryland, North Carolina State, among others. Technical project manager-ice cream, dairy, and other foods.

As an independent dairy & food technologist, activities include product & process development; identification and assessment of emerging ingredient, product, and process technologies; and development of total quality programs. Non-technical activities include marketing, sales, and strategic planning for business and product development. Active in frozen dessert product and process development worldwide.

Email: steve@stevenyoung.net
Dr. Dr. Arun Kilara, Principal
ARUN KILARA CONSULTING
B.S. in Food Science, Punjab University, Chandigarh, India; M.S. in Food Science, The University of Saskatchewan, Saskatoon, Saskatchewan, Canada; and Ph.D. in Food Science & Technology, The University of Nebraska, Lincoln, NE.
Former Full (tenured) Professor of Food Science at Pennsylvania State University, and former Director of The Penn State Ice Cream Short Course. Adjunct Professor of Food Science at both North Carolina State, and Pennsylvania State. Former Director-Protein Applications, The Monsanto Company..
Specialized interest in the chemistry, physics, and functional attributes of dairy foods (individual components, dairy ingredients, native and modified proteins, formulating, processing.) Focus on protein sources, functionalities, influence on sensory properties, and nutritional efficacy.
Holder of multiple patents, individual academic awards, and author/co-author of over 125 peer-reviewed scientific and technical papers, books, and select chapters, with interest in food proteins and their applications in fluid, frozen and cultured dairy foods.
Since 1985, and, concurrent to academic and scientific roles, a consulting food & dairy technologist with primary focus on dairy, and non-dairy, beverage, cultured, and frozen dessert development.