Tharp & Young On Ice Cream
North American Edition
3-Day Course

A Presentation of
Steven Young Worldwide &
Wm Sipple Global Services


November 30 - December 2, 2022

Embassy Suites Las Vegas
Las Vegas, NV


52nd offering; 25th GREAT YEAR!
SPONSORED BY: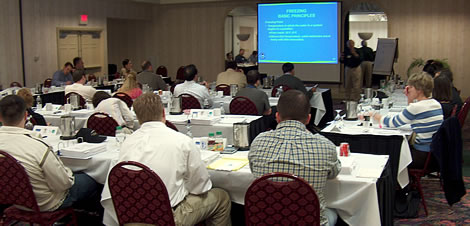 Course Description:
The 3-day "THARP &YOUNG ON ICE CREAM" program offers all the key elements of the science, technology, and manufacturing of ice cream and other frozen desserts.
In addition, the 3-day program uses an innovative team teaching approach to take advantage of nearly 75 years of combined dairy & ice cream technology experience and expertise. A multi-disciplined approach to development, production, and quality of commercial ice cream and other frozen desserts is taken.
COVERAGE INCLUDES:

INGREDIENT FUNCTION / SELECTION


KEY ELEMENTS OF STRUCTURE / PROPERTIES


MIX PROCESSING / FREEZING / HARDENING


FORMULATING FOR SPECIAL FEATURES / BENEFITS


ATTRIBUTES / DEFECTS


FLAVORS / INCLUSIONS / COLORS


MANAGING COSTS / COST SAVINGS


SENSORY TECHNIQUES: QA / PRODUCT DEVELOPMENT


QUALITY ASSURANCE / FOOD SAFETY


NEW INGREDIENTS / PROCESSES / PRODUCTS

EXPANDED EMPHASIS!!


FORMULATING IN EVER-CHANGING, CHALLENGING REGULATORY


ENVIRONMENT.


FORMULATING WITH INCREASED SERVING SIZES IN MIND.


FORMULATING FOR "REDUCED" OR "NO" "ADDED SUGARS".


FORMULATING FOR "REDUCED" CALORIE TARGETS


FORMULATING NOVEL WATER ICES, SLUSH BEVERAGES AND THE


LIKE


TRUE SUGAR-FREE ICE CREAM: INGREDIENT SELECTION AND


FORMULATION


ULTRA LOW TEMPERATURE FREEZING


FORMULATING GOOD-FOR-YOU ICE CREAMS


COMMERCIAL PRODUCT CLINICS


FORMULATION WORKSHOPS
The course is fully updated and revised annually to include hot topics, emerging technologies, new approaches, and new products.



Click 3-day Course Schedule to view
the full course program.
Venue & Accommodations:
Embassy Suites Las Vegas
4315 Swenson Street
Las Vegas, NV 89119
702-795-2800
Fax 702-795-1520

Special Tharp & Young rate - scroll down to find the link to make a reservation.
Amenities:
Short distance from Las Vegas' McCarran International Airport
- Discounted room rate*
- All 2-room suite hotel
- Full cook-to-order breakfast included
- Full service restaurant .. breakfast, lunch, dinner, room service
- Shuttle transportation to nearby attractions
- Nightly Manager's Cocktail Reception included.
*Ask for "Tharp & Young Group Rates".
Tuition Fee:

$1,710.00 per attendee (U.S. Dollars only) - minus applicable discounts
Course discounts (details tbc):

"Early Bird" Registration (before Sep 1, 2022): $50 Discount per attendee

Two of More Attendees from Same Company: $50 Discount per attendee

Previous Attending Companies: $50 per attendee


(click to view list of previous attending companies)



Discounts are combinable.
Tuition includes:
3 full days of programs, 3 lunches, beverages & light snacks each day, reference materials, supplies, fully-updated 700+ plus page course manual AND a copy of our 400 page reference text Tharp & Young On Ice Cream: An Encyclopedic Guide to Ice Cream Science and Technology for each attendee.

ALL books of attendees will be co-signed by both Bill and Steve.
Cancellation and Refund Policy:
A full refund is available up to November 1, 2022. After this date a $300 cancellation fee will be assessed to cover the cost of guaranteed commitments.

Click here to PRE-REGISTER (opens in a new window).
Book Accommodation:
TYOIC has reserved a block of rooms at the Embassy Suites Las Vegas - click on the link below to make a reservation at the special Tharp & Young rate.



Booking Link: CLICK HERE (opens in a new window).

Hotel: Embassy Suites Hotel Las Vegas

Group Name: Tharp & Young On Ice Cream

Arrival Date: 30-Nov-2022

Departure Date: 03-Dec-2022
More Questions?


Contact Us