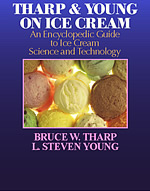 Tharp & Young On Ice Cream: An Encyclopedic Guide to Ice Cream Science and Technology
NOW AVAILABLE!
A new reference book in encyclopedia format covering all elements of ice cream technology in a user friendly format and approach. This is NOT a chapter book, but a text matching scientific terms and concepts with the reality of technical need, including extensions into ice cream marketing, economics, and sale.
" Excellent source of all things ice cream. Very nice! A MUST have!"
… Plant manager, major USA university/teaching creamery.
-
BUY NOW
AND GET THE AUTHORS' DISCOUNT
-
BUY THE BOOK
AND GET A DISCOUNT ON THE NORTH AMERICAN TYOIC COURSE REGISTRATION FEE
"This book is so much more than the title would suggest."
Book Review (.pdf)
, reproduced with permission of
Food New Zealand
, journal of the NZ Institute of Food Science & Technology (NZIFST)


A personalized invitation to attend Tharp & Young On Ice Cream:



Tharp & Young On Ice Cream, Asia Pacific 2015:



The sights and sounds of Tharp & Young On Ice Cream:


'Tharp & Young On Ice Cream' Technical Short Course Workshops and Clinics
22nd GREAT YEAR!

Asia Pacific Edition, June 17 - 21, 2019, Singapore

North American Edition, Dec 4 - 6, 2019, Las Vegas, NV, USA



Formulating in ever-changing, challenging regulatory
environment.


Formulating with Increased serving sizes in mind.


Formulating for "reduced" or "no" "added sugars".


Formulating for "reduced" calorie targets


Formulating novel water ices, slush beverages and
the like


New Crossover/Hybrid Products


True Sugar-Free Ice Cream


Novel Approaches


Ingredient Function / Selection


Key Elements of Structure / Properties


Mix Processing / Freezing / Hardening


Formulating for Special Features / Benefits


Attributes / Defects


Commercial Product Clinics


Flavors / Inclusions / Colors


Sensory Techniques: QA / Product Development


Quality Assurance / Food Safety


New Ingredients / Processes / Products

... and More!!!
THARP & YOUNG "On Ice Cream"
is a series of technical short courses, product clinics, and formulation and case study workshops that focus on current and emerging ice cream and related frozen dessert technologies. Practical aspects of formulation and manufacturing are stressed. Over 75 years of combined experience are leveraged. The North American course is conveniently scheduled across three days in November or December each year.
"You (Bruce & Steve) all did such a great job with our team members last year that we want to send some more. You would not believe the productivity increase we experienced - not to mention the morale boost."

- Human resource director of a major North American ice cream manufacturer.
Totally independent and non-commercial - no corporate sponsorship or advertising.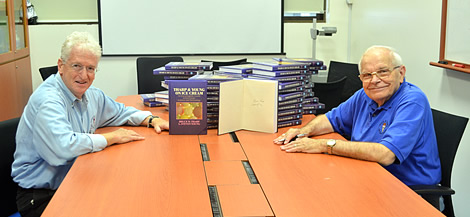 Presented by
Dr. Bruce Tharp
,
Tharp's Food Technology
, Wayne, PA,
and
Dr. Steven Young
,
Steven Young Worldwide
, Houston, TX,
"On Ice Cream"
covers all aspects of ice cream technology from ingredient selection and functionality to production, flavoring, quality assurance, and safety management. Both technical and non-technical aspects are covered.
The course is designed for those technical (product development, quality assurance, production) and non-technical (marketing, sales, finance, general management) professionals both new to the business and with multiple years experience. This includes suppliers, manufacturers and retailers.
Over 500 companies from more than 60 countries have selected Tharp & Young On Ice Cream for their ice cream training needs.


Click to go to a list of previous attendees